The Consortium for Advanced Practice Providers offers programmatic accreditation for postgraduate nurse practitioner and joint nurse practitioner and physician associate training programs, designed by NP and PA postgraduate program directors, for NP and PA postgraduate training directors. The Consortium exists to support new and ongoing postgraduate training programs for nurse practitioners and physician associates in the achievement and maintenance of the highest standards of rigor and quality, consistent with achieving the goal of an expert healthcare workforce prepared to meet the needs of patients and the society as a whole.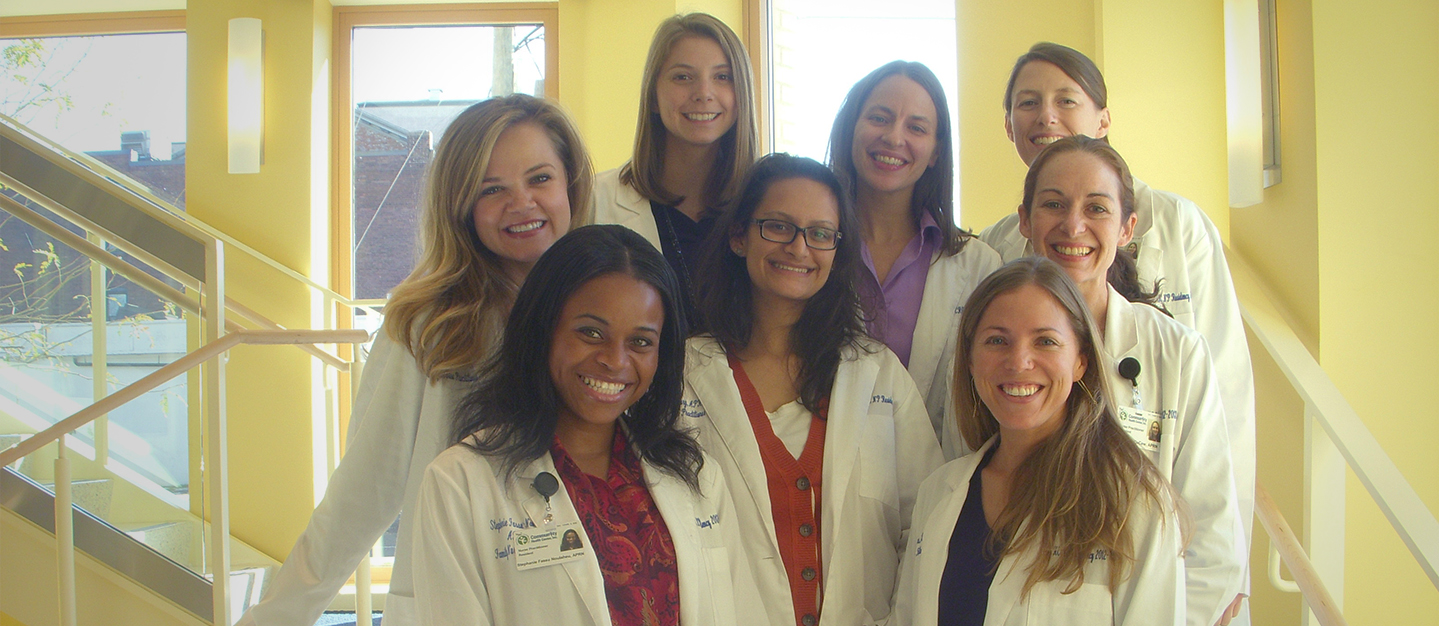 About Us
The Consortium for Advanced Practice Providers is a private, nonprofit 501(c)(3) created to advance the model and rigor of postgraduate nurse practitioner and joint nurse practitioner/physician associate training programs, both residency and fellowship. The organization emerged from an informal group of early innovators and developers of a residency and fellowship training for new nurse practitioners, first in primary care and then in specialty care as well.
Our goal is twofold:
1.) increasing opportunities for fully credentialed and licensed, novice APPs to participate in high quality, structured, postgraduate programs that provide experiential training to high-performance models of clinical care, combined with precepting and mentoring focused on honing the novice APPs skills and fostering their professional confidence; and

2.) providing programmatic accreditation for these postgraduate training programs, ensuring that the programs adhere to rigorous standards developed by nurse practitioners and experts in clinical care, adult learning and professional training. In achieving these goals, the Consortium will make a significant contribution to the APP professions and to the health and health care of the public.
At a Glance
Founded by the Community Health Center, Inc. (CHCI) in 2010 as an informal group of early innovators and developers of postgraduate nurse practitioner residency programs.
The Board of Directors was created in 2015 with volunteers from around the country with a broad range of backgrounds and expertise
Formally incorporated as a separate organization in 2015 and named the National Nurse Practitioner Residency and Fellowship Training Consortium with headquarters in Washington, DC.
Began accreditation of joint NP/PA programs in 2020
Renamed to the Consortium for Advanced Practice Providers to be inclusive of joint NP/PA programs in 2023
Purpose
To educate stakeholders about postgraduate nurse practitioner and joint nurse practitioner and physician associate training programs that provide an additional elective training experience for the novice, fully credentialed APPs, to advocate for support and investment in such programs, and to provide a vehicle for accrediting these training programs for primary and specialty care.
We offer postgraduate training program accreditation that is designed by program directors for program directors. These training programs provide elective postgraduate training for fully credentialed and licensed NPs and PAs who desire an additional year of experience to hone their skills to a high-performance model and to gain additional confidence and competence when providing comprehensive care for individuals with complex health needs.
Trainees must have graduated from an accredited Physician Associate or Nurse Practitioner program. Physician Associate trainees must be PANCE certified through the National Commission on Certification of Physician Assistants. Nurse Practitioners must be Board Certified through the ANCC or AANP.
The accreditation process includes formal internal and external review processes. The program conducts a rigorous self-study that results in a written report. This is followed by an on-site visit that verifies the findings of the self-study report and confirms relevant documentation. The 1.5-day on-site visit is conducted by a team of trained site visitors (educators/administrators and APPs) which results in a written report that is submitted to the Accreditation Commission for consideration and to determine the final accreditation action. Comprehensive technical support is available throughout the review process. Initial accreditation is awarded for up to three years.
The Consortium is federally recognized by the U.S. Department of Education as an accrediting organization.
For FAQs, please click here.
History of the Postgraduate Nurse Practitioner Residency and Fellowship Training Movement
In the 50-year history of the nurse practitioner role in the United States, many creative and successful strategies have been adopted by innovative organizations to support the transition of new nurse practitioners into practice. While physicians and dentists are supported in their postgraduate training by federal graduate medical education training funds, no similar source of support is available to programs for APPs. Lack of federal funding is considered a major barrier to program development.
CHCI recognized the acute need for access to formal programs to support highly committed new nurse practitioners who were joining federally qualified health centers (FQHCs) and experiencing a difficult transition to the role of primary care provider. From the beginning, CHCI understood that this difficult transition was a logical consequence of the enormous gap between meeting the standards for safe entry to practice and managing the challenges of practice as a primary care provider in the nation's safety net settings.
Recognizing that the long-term success of primary care depends on ensuring providers have the necessary support, training, and education for confidence, competence, and mastery associated with professional satisfaction and success, the CHCI Board of Directors approved the creation of the first formal primary care postgraduate nurse practitioner residency training program in 2007. The original program has grown to a residency class of ten per year. For more information on the CHCI residency program, including its structure and a listing of didactic sessions and specialty rotations, click here.
Other programs soon followed: at the Family Health Center of Worcester, Massachusetts, in the Veterans Affairs, in nurse-managed health centers, and in other community health centers. Equally important, the development of postgraduate residency and fellowship training in specialty areas and the acute care setting emerged, particularly in North Carolina and Georgia, and is growing rapidly across the country. The primary care residency and fellowship programs have developed their own unique approaches to meet the goals and vision of their leaders while delivering training that provides targeted experiences designed to build the residents' confidence and clinical skills needed to deliver healthcare in the complex environment of safety net settings. It is estimated that there are approximately 450+ APP postgraduate training programs in the U.S.
Recognizing the growing trend of joint NP/PA postgraduate training programs, the Consortium began accrediting joint NP/PA postgraduate training programs in 2020.
Updated and Approved 08/17/2023