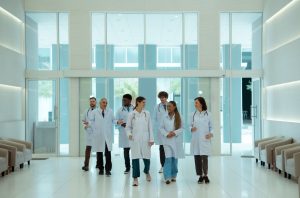 In less than 20 years, the number of post-graduate fellowship and residency training programs for advanced practice providers (APPs) has gone from one to 514, including 39 in California.
The rapid growth reflects both the need for better-prepared APPs in a range of health and medical specialties and an increasing demand by NP and PA graduates seeking additional support and training as they transition into their careers. Accreditation of these programs is increasing, as well, as NP graduates seek programs that have met rigorous standards for quality.
"These post-graduate programs are a training bridge between education and practice," said Kerry Bamrick, MBA, Executive Director of the Consortium for Advanced Practice Providers (formerly the National Nurse Practitioner Residency and Fellowship Training Consortium). "It's hands-on continuity of care, building their own panel of patients and getting expert precepting."
Applications for post-graduate PA and NP residency/fellowship programs increased during the height of the COVID-19 pandemic due in part to a perceived skills gap as many entry-level programs struggled to place PA and NP students in face-to-face clinical rotations, said Vasco Deon Kidd, DHSc, MPH, MS, PA-C, Associate Clinical Professor in the Department of Orthopedic Surgery at UC Irvine, and a leading researcher on APP post-graduate programs.
"As a result, some licensed NPs and PAs looked to postgraduate residencies/fellowships to shore up shortfalls in their clinical training," Kidd said. "Published research has shown that licensed NPs and PAs who complete residencies/fellowships feel more confident in their clinical skills and are able to onboard quicker."
Unlike physicians, for whom residencies are required, NP residencies are optional, and while most NP organizations agree they should not be mandatory, experts agree they are necessary in certain specialties and health care settings.
"NPs are educated and trained to safely care for patients within their area of specialty once they graduate," said Susanne Phillips, DNP, FNP-BC, FAANP, FAAN, Senior Associate Dean and clinical professor at the UCI Sue & Bill Gross School of Nursing. "But in many of our community health and specialty settings, those students may need additional mentorship to independently take on the level of care that may be required."
She said community clinics and federally qualified health centers (FQHCs) in underserved areas, for example, treat high-acuity, medically complex patients affected by multiple social determinants of health.
"A novice primary care NP would be better off co-managing patients like that with another clinician initially while learning how the health care system is designed for this patient population. It is difficult to confidently navigate medical and system complexity in these settings the day after they graduate."
Program Growth Across the Board
Bamrick said post-graduate residency and fellowship programs have flourished in every category, from primary care to telehealth and wellness promotion to psychiatric care. Programs may emphasize diversity, equity and inclusion or resilience and reducing burnout. They span across health care settings, from FQHCs to school-based clinics to hospitals and health systems. The programs, increasingly combining PAs with NPs, often develop as partnerships forged among community providers and academic institutions.
The Family Nurse Practitioner Community Care Residency Program, a collaboration between the Community Clinic Association of Los Angeles County (CCALAC) and the Chin Family Institute for Nursing (CFIN) at California State University, Los Angeles is a good example.
Lorie Judson, PhD, RN, NP, FAAN, a Cal State LA Professor Emerita and the Executive Director of CFIN, heads the program. She said the residency responds to the need for primary care providers who can manage complex and highly vulnerable patients. Judson and her colleagues are now recruiting the third cohort and will soon bring on five new residents.
Demand for programs like hers is understandable, she said.
"If you talk to anyone who jumped into it without a residency, they will tell you their first year was difficult until they found their footing and felt comfortable," she said. "Most NPs I have spoken with who didn't have the opportunity for a residency have said they would have welcomed the experience."
The challenge, she said, is finding preceptors and the funding to meet that demand.
"Many clinics are not familiar with NP residencies and reluctant to provide the preceptor we need for that to take place," she said, adding that they must be convinced that spending a year training a resident is worth the effort. Federal funding is not provided and must be secured through soft money or grants.
"In the long run, it pencils out for the clinics because you have a provider who, from the beginning, can bill for their services, and after a year is fully up to speed and comfortable with the clinic and people they work with," she said. "All of our residents have continued their work at an FQHC after their residency."
CCALAC/CFIN residents are given practical information from FNPs in practice during 120 hours of didactic classes throughout the year. In addition to the classes at Cal State LA, residents spend approximately 30 hours per week in the clinic doing direct patient care, beginning slowly and developing a full patient panel by the eleventh month, with the guidance of NP and MD preceptors. Residents ultimately gain confidence and independence.
Hospital-Based Programs on the Rise
The Betty Irene Moore School of Nursing at UC Davis Health runs a Health Resources & Services Administration (HRSA)-funded Advanced Nurse Practitioner Primary care Residency in Addiction, Chronic care, Telehealth, Improvement science, Collaboration and Equity (Advanced NP-PRACTICE). The program aims to help NPs meet primary care needs in underserved areas.
To support the incoming generation of advanced practice providers, UC Davis in 2016 created hospital-funded Advanced Practice Fellowships in trauma surgery, neurosurgery and radiology.
"We looked to create sustainable careers and to help them become successful and independent in a specialty practice," said Christi Delemos, MS, CNRN, ACNP-BC, Chief of Advanced Practice. "The organization increasingly has used advanced practice team members to supplement our workforce in complex specialties. We understand it takes one to two years to train an APP new to a specialty. The fellowship allowed us to develop new providers and create a pipeline of qualified providers. They are part of the solution."
UC Davis Health now has eight specialty tracks, said Danise Seaters, MS, ACNP-BC, Director of Advanced Practice, Education and Fellowships. In addition to trauma surgery, neurosurgery and radiology, they include orthopedic surgery, burn surgery, endocrinology-inpatient glycemic team, oncology and neurology. The fellowship programs support newly graduated APPs to acquire skills rapidly so they can be successful in complex care environments.
"In an academic setting we have a high acuity patient population," said Seaters. "We have patients who come from all over to receive care, and they are critically ill. The job our staff are doing is in high-acuity roles where gaining that skill set takes time."
Seaters said they have retained 81% of program graduates as UC Davis Health employees.
"Our fellows provide exceptional care and are valued members of the advanced practice provider team."
Programs Increasingly Seek Accreditation
UC Davis Health recently achieved accreditation for its specialty and primary tracks through the Consortium for Advanced Practice Providers, which Seaters said, "validates our program and assures applicants that we meet the highest standards."
Bamrick, of the Consortium, has been part of the postgraduate training movement since it began in 2007. Today, she said there are four organizations offering post-graduate program accreditation: the Consortium, the American Nurses Credentialing Center (ANCC), the Commission on Collegiate Nursing Education (CCNE) and the Accreditation Review Commission on Education for the Physician Assistant (ARC-PA). The Consortium, federally recognized by the U.S. Department of Education in 2022, has accredited 30 programs across the country since its inception in 2015.
Post-graduate Program Research Limited Research on the impact of post-graduate residencies and fellowships is in its infancy.
"There is insufficient data regarding patient-level outcomes or effectiveness of post-graduate training programs vs. on-the-job training as an NP or PA," said UC Irvine's Kidd. "Although there has been published research on programmatic functions and educational characteristics of postgraduate programs, we need to have a better understanding of the impact of postgraduate NP and PA training on patient outcomes."
What has been studied is the impact of programs on NPs themselves.
One study published in 2021 by the American Association of Nurse Practitioners reported that PCNPs with residency training were more likely to report enhanced confidence in independent roles, greater proactive autonomy, improved team collaboration, increased job satisfaction, and decreased intent to leave than those without residency training." The study concluded that expansion of such programs "would have positive effects for NPs, health care organizations, and patients, necessitating a long-overdue conversation about real public funding for primary care graduate nursing education."